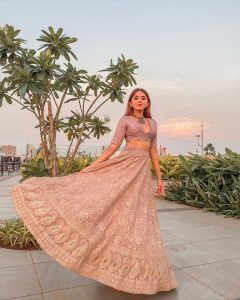 Six years ago, when Aashna started blogging, she had no way of finding if it'll work. Regardless, she kept at it. When asked if this is what she wanted to do all along, she recalls, "I didn't know what to do with my life for the longest time". However, she knew what she didn't want to do, which was, be a corporate employee. After finishing her bachelor's degree in Arts from MIT College in Mumbai, she tried her hands in a variety of arraignments, which included set designing, photography & being a preschool teacher. When all that failed to materialize substantially, she turned her attention to something she always loved – fashion.  She remembers dressing up and imagining a ramp and cat-walking on the same ever since she was three years old; which was further bolstered when she became a child model alongside her mother, who was already in the modeling business.
Her love for fashion took a bigger turn with the advent of Instagram in 2013. What began as harmless photo posting turned into an important avenue for Aashna in the coming years. Subsequently, she started a fashion blog (The Snob Journal) while also inaugurating her own apparel store (The Snob Shop). But her talents weren't just limited to fashion blogging – with her knowledge of set designing, she also began investing her energies into interior designing (The Snob Home). Besides outfits and interiors, the third thing that mostly populates her social media are her dogs, Kiwi & Oreo.
Aashna is a vegetarian, and cites music and caffeine as her daily inspiration. She de-stresses by colouring and doodling and is a sucker for romantic Bollywood movies. She recalls being a shy, introverted person who would rather remain in her comfortable shell than dare to be outgoing. But unlike a lot of people, she took every opportunity life threw at her. This led to her giving her own TED talks in June, 2018 and in February 2019. She was also awarded the title of 'Most Engaging Influencer 2019' by Cosmopolitan India. She believes in the power of manifestation, and the fact that the energies you put out in the universe come back to you. To other fellow young bloggers, she advises to be patient, diligent & staying true to self.