We girls love our makeup, don't we? We love how confident we feel when that winged eyeliner comes out perfect or in that sensual bold red lipstick.But, what I dont understand is why is makeup becoming such a negative controversial issue? Nobody has a right to tell us we wear too much makeup or our lipstick is too dark. Right girls?
Hello readers of Creatorshala, we are talking about an inspiration to all you beauties out there who love makeup; Shreya Jain. A youtuber, beauty guru, self taught makeup artist and now founder of SJ Merch also popularly known by her Youtube name "SJlovesJewelery".
Shreya is that one beauty guru who has never been scared of experimenting with her makeup and creator what she enjoyed creating. Her journey started on Youtube 8 years back and its been a roller coaster ride with all the love-hate she received for the vivid looks she created while playing around with makeup. By posting makeup looks, honest reviews, beauty tips and tricks and challenges on Youtube she has gained more than 500,000 subscribers becoming a household name when it comes to anything beauty. She also has a huge fan base on Instagram due to her 1 minute videos and colorful feed that she maintains.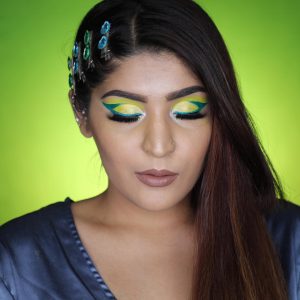 It's not a cake walk creating makeup looks and putting it out on Youtube knowing there will be a lot of hate comments. This diva has made a point to accept makeup in every form and not just when it is wearable. Makeup acceptability is still extremely low in India but she makes it a point to get out of her comfort zone and experiment.
If you are a huge makeup lover; You need to follow Shreya Jain on her Youtube and Instagram.