Makeup is not a mask. Makeup is art. Makeup is passion. Makeup is Expression. 
They say makeup is an addiction; we say we couldn't agree more. That being said, make is also art and not everyone is an artist. Also, not everyone knows how to accept and appreciate art. Girls, do you remember that age of kohl rimmed eyes and glossy lips? That is the age when it all started. Today, makeup is an essential part of most of our lives; it makes us feel confident, talented and empowered. There is now harm is saying makeup is enhances our beauty.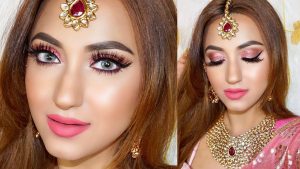 If you are a makeup-holic you'd definitely know Aishwarya Kaushal. Aishwarya is a beauty youtuber, a fashion enthusiast and boss babe who loves everything and anything makeup. You'll find a ton of makeup tutorials, product reviews, hauls and other fun videos on her Youtube channel. This beauty has attracted tons of makeup enthusiasts to her Youtube and Instagram through her informative content. Aishwarya is a self taught makeup artist and he has taught the art of makeup to many lovely ladies in the past. She had an urge to share and extend her love for all things gorgeous and share what she knows best with the audience.
This makeup lover is known for coming with some of the most glamorous and glittery looks. She adds in a lot of color to her lids and is definitely not scared to go all out with the products. Aishwarya is ready to experiment with different products, looks and colors in order to get the best results. For someone who wants to learn A-Z of makeup, or just try new looks for the wedding season; you need to go and watch her tutorials right now. Aishwarya makes sure to give honest product reviews; which again are great for her audience.
We've picked out a few of our favorite looks that Aishwarya created: