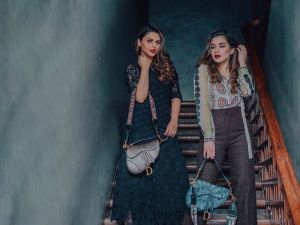 There is nothing like two girls working strongly together and supporting each other through thick and thin. What better than having a similar vision yet versatility through ideas and concepts. When two people work together, it's obvious to have different ideas and different ways of working. What really matters is the goal of both should be same. Imagine how much fun can two girls have who get to dress up together while working? Nothing can actually compare to the bond of Boss Ladies who are extremely passionate, ambitious, loyal and strong. Honestly, few girls are better together.
Curators of the blog, The Image Code, Aaliya and Tina are luxury connoisseurs in its true sense. These two passionate women came together to explore diverse roads that lead to one common goal- to attain the brilliance of creative expression through fashion. You'll see Aaliya and Tina decoding style, luxury, lifestyle and beauty in the best way possible through their blog and Instagram handle. They have attracted and hooked on thousands of followers to their creative content. Once you start scrolling their feed; you'll not be able to stop for hours, we promise. These two are a perfect blend of fashion coupled with luxury, which comprises of an innate part of their lives and personal style.
Talking just about fashion has become a little mainstream, we see everyone doing it now a days. The idea of showcasing luxury fashion is still a little new in here. These young and aspiring fashion enthusiasts have managed to collaborate with high-end beauty and fashion brands, and with their own unique sensibilities, they often showcase versatility and creativity through their blog. If you think luxury fashion content is the same as fashion content, you are wrong. Fashion content focuses on everything but luxury fashion content is handpicked and personally curated. We absolutely love Aaliya's and Tina's take on everything luxury and beauty,
Way to go girls!