–Live With No Excuses and Travel With No Regrets–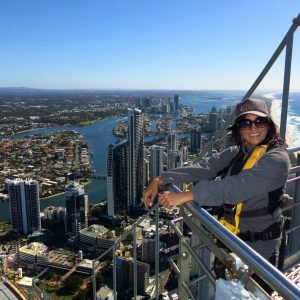 All our lives are mere stories holding different chapters, each narrating a saga of different times. Every chapter of our lives documents a phase that has helped us in becoming what we are. Although no phase no matter how bland or exciting is ever worth regret. In all its glory of the past life is all about moving on and taking the next step as ferociously as possible. It midst millions of stories we find one where we are in for a treat. It is in these stories that we find one story where the lead rises and grabs all of it that life has to offer. It is about people like Ami Bhat who completely change the track of their story and all we can do is soak up all the inspiration their character has to offer!
Holding a prestigious job in marketing for over 15 years and a family who shared her love for travelling, Ami Bhat had it all! However, she wanted more and she is on her way to get it! If we were to give you a recap of her previous chapters in her story we would sum it up by narrating these facts:
She hails from Gujrat and is now settled in Banglore.
She is irrevocably in love with Travelling and wants to explore places for their historical values.
She plans her year by narrowing down all the holidays and long weekends
Her daughter shares her passion for travelling and exploring and her mother is well, like all mothers a little sceptical about her child's choices.
Title of her Saga in her own Words: Travelling is like Breathing
Team Creatorshala Presents Some Fun Facts About Travel Blogger Ami Bhat
As far as it Goes:
Her love for travel goes back to probably the first or second chapter of her life story Because she was 7 years old when she took a trip to Thailand-Singapore- HongKong and Philippines. Every moment of the trip is embedded in her memory as if it was yesterday
No Favourites
Although all she thinks about in her life is travel and exploring she has not given much thought to deciding a favourite place and is all proud to say that they are all her favourites and she would want to go back to each one of them
Them Confessions
She has confessed that she is a restless ball of energy and her daughter is a fireball. Her mother goes around saying that she was bitten by some travel bug at a very early age and she has solemnly passed those genes to the next generation.
No BucketList
For a person who is both dynamic and embracing keeping a bucket list is a hard task. So she is doing what she does best and that is doing as much as she can without keeping a tab on any kinda checklist.
The Best Company
No road is too long with some good company. In this case, Ami is blessed with the best because if she travels with her family she is travelling with a mini-me version of her which just doubles the fun, and then there is her husband whose view of exploring places is a little different then hers and thus as a team they are more than perfect soaking in every nook and corner. Also, she is super comfortable in travelling alone and digging in some solo fun.
Travel Wisdom
Because there is no better teacher than experience and there is no better experience than travel. It is due to her exposure to different places and people that she gives us some universal do's and don ts.