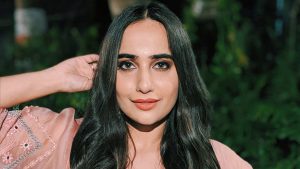 You meet very few people in life who actually inspire you to do better and grow. The have a different vibe altogether and their aura is what really makes them stand out from the crowd. You can see it in the way they talk, walk, dress up or even eat. And trust us when we say this, these people are not in abundance. They'll motivate and inspire you and you wont even realize how. Their creative mind, talent and confidence is something we all need in ourselves to succeed and do better.
One such person is Kusha Kapila. Kusha popularly known as Billi Massi is a social media star who rose to fame from the writing desk of IDiva. This sharp and talented woman needs no introduction, we all know her. She won hearts of million people and they ga-ga over acting skills. From Karan Johar to Kareena Kapoor Khan to Ranveer Singh and many more celebrities are also in love with her, just like we are. It's amusing to see how she manages to take on challenging conversations about the many issues women face in India. Her content is hilarious, on point and very very very creative.  You can see the amount of effort she puts in from the way she dresses up, gives those expressions and of course that voice modulation is fantastic.
Here's why we are head over heels in love with her:
Queen of Expressions – Can you imagine Billi Massi without those expressions? We certainly cannot! Kusha is such a pro and natural when it comes to playing with those expressions. It's like she is that person and not playing a character. She takes the entire script a notch up just by her acting.
Promoting Body Positivity – It's almost sad to accept; body positivity and acceptance is still relatively low in India. We still live in a fear of being body shamed and not being accepted by the society on the basis of how thin or thick we are. Kusha Kapila comes to the rescue! The diva doesn't give a damn about what people have to say and that what she motivates us to do.
Outfits and Makeup on Fleek – This woman never goes wrong with her outfits and makeup. Whatever she decides to wear flaunts her curvy body and Kusha looks so stunning. Team Creatorshala is in awe of all her outfits be it Indian wear or Western wear. And of course, the girl has got some great makeup skills. We love!