The Sun Doesn't Lose Its Beauty When It's Covered By Clouds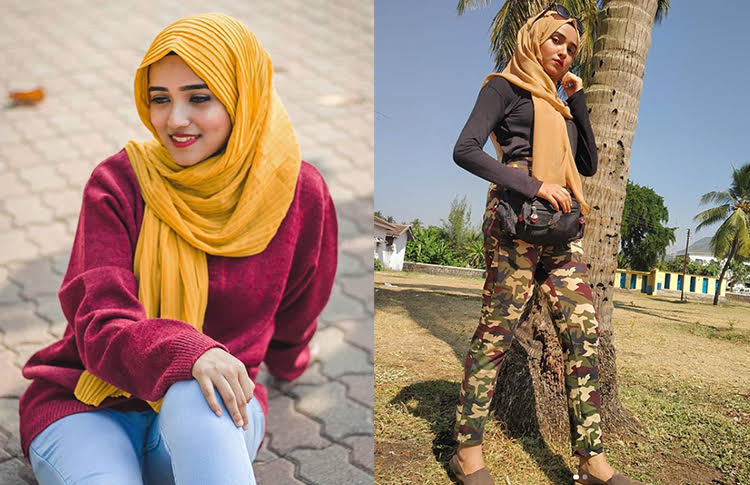 As humans, we have always had a hidden instinct to taste the forbidden fruit we have always had the desire to simply defy our elders and go against them just for the feel of it. There comes a point in our life that we are so focused on trying to blend in that we forget about our uniqueness and beauty. Almost all of us Millenials are guilty of neglecting our cultures a little too much however, at the same time we are the most embracing people when it comes to passion and professionalism. We take all the credit for being the generation that brought about blogging something that a person does purely out of the heart and earns some money as well. We are the ones that made our opinion count and came out as relatable as well as inspiring at the same time!
So, what if there was a person who blended culture and curiosity in one jar, we say that she will rise out and fill the blogging sky with all sparkles. Today's dose of inspiration is about Anam Shaikh, a modest fashion influencer who is in love with SHEIN and aims to be at vogue!
Let's get to Know Her:
Anam is one of the few hijabi bloggers of our country and has marked her territory with a certain fierceness and never-ending belief. She started her blog when she was only 18 years old and believed in her niche and is now one of the fastest-growing bloggers in the industry.
Fair Share of Difficulties and Inspiration
She was managing her life as a full-time student and a blogger at the same time when she met with an accident which impacted her physically as well as mentally. Her face was severely damaged and she had to go through several surgeries. Her face was scarred and she had insecurities facing the camera. However, her family stood by her and she was back with a bang.
Just Relatable Stuff:
She wants to go to Paris- Loads up on Cheetos and Kurkure-Loves Cheese burst Pizza and is Daddy's Girl!
Team Creatorshala's Most Favourite Looks:
Monochrome Love:
Colour is simply everything, but Black and White are so much more!
https://www.instagram.com/p/B3d22tjlArM/

<strong>Looks So Nice We Gotta Like It Twice:</strong>

This is what we call goals because of that simplicity with that confidence and such a perfect selfie.

https://www.instagram.com/p/B1NrciLlLXT/
Pastel Parade:
Pastels are synonymous with simplicity and so is she!
One Accessory ain't Enough:
Why wear just one accessory when you can pull it all!
For The Love of Fall:
This is the pure inspiration for your fall fashion!
Spotted @ Stories
Because We Asked
All her recommendations are life-saving, she is a proud Indian, she has got a lot of nicknames, she loves cheese burst pizza and gets a lot of compliments on a daily basis.
What Say!
She has got a lot of collabs and all of them are super good however our fav is her work with Anastasia Beverly Products.
Worth A Mention
She is the only Indian Influencer to have worked with International brand Niswa Fashion and has got us discount code and free shipping!
We Caught You!
She is a big foodie and loves almost everything you can spot her eating Indian food-doughnuts – a lot of spicy stuff, some enticing desserts and Cheetos!
On Fleek Selfies
Her eyeliner is on fleek but you will get distracted by confidence in her eyes, her face is flawless but you will fall for her simplicity she is wearing beautiful colours and you will still be inclined towards her respect for her culture!