Cars have always been style statements for us. A variety of factors like performance, price, reviews and mileage effect our decision while buying one. By sharing his valuable experiences with us, auto-blogger Shahnawaz Karim has made a name for himself in and beyond the realm of digitization.
He discovered his love for bikes while racing along the DTC buses on the highway, coming back from tuitions. There was no looking back once he rode the motorbike for the first time at the age of 12. He has been a part of multiple renowned off-road FMSCI certified events like speed sprint, Cougar Motorsports rally and private off-road track days. Moreover, he has been seen enjoying numerous Motorsports with Formula Maruti Races, TVS, Yamaha One make races, Yamaha Factory team at MMSC Racetrack and KTM races at Buddh International Circuit.
Shahnawaz Karim also has his own automotive website called Wheels Guru (www.wheelsguru.com) and is a top Instagrammer (https://www.instagram.com/wheelsguru/) with a following of 30.6k. He shares all aspects of automotive industry, comparison between vehicles and information regarding two and four wheelers on the two platforms. His Instagram handle has become one of the top destinations for travelers and bike lovers.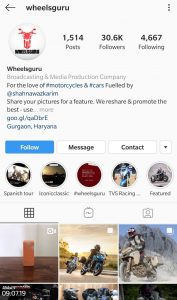 He is currently the Head of Marketing and Brand Management at Spectranet, and continues to invest on www.wheelsguru.com which is his premiere innovative invention. He has headed marketing departments of numerous global businesses and has worked with renowned brands like www.airtel.com in his exceptional and inspiring career. He has been a key member involved in the launch of Airtel Talk and has made a startup (www.nimbuzz.com) expand from 2 Million to 250 Million users. He has sold his event company to Nokia a while ago. We cannot deny his immense contribution in all domains of marketing like digital marketing and strategy building, branding, advertising and influencer marketing.
Do check out his blogs for reliable content curated around the brands that really make a difference in the industry. He focuses on key markets of United States of America, United Kingdom and his home, India for about 90 per cent of his content on the auto-sector. His ever-increasing audience and consumers have always been his top-priority and he makes sure that he gets the most out of the content he creates.