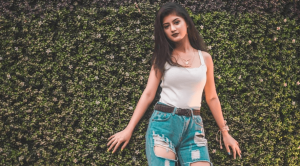 While some people struggle to leave a work in their industry; others are born with the talent to do that. They start working on their goals from a very early age and never stop hustling. It's not because anyone is forcing them to do that; it's their passion that makes them work hard and smart everyday. You can not really succeed in your field if you are not happy with what you are doing. One can only do wonders if they are truly and deeply passionate about something from their heart. Fame, money and even luck for that matter only comes after you've earned it.
One such person is Arishfa Khan. Arishfa is an Indian Television Actress, Model, Dancer, TikTok Star, Instagram Star & Youtuber. Her follower count on Instagram, TikTok and Youtube just keeps on increasing everyday, there is no stopping this girl. She'll get you hooked on to her pictures and videos in a jiffy and you'll not be able to take your eyes off. If you've seen her video's on TikTok and Youtube you'd know how amazing she is when it comes to acting and dancing. Oh wait, we meant she is fabulous at everything she does.
Arishfa Khan, who worked as a child actor in TV shows like Veera, Yeh Hai Mohabbatein, Jennie Aur Juju and Baal Veer to name a few has grown up into a beautiful young girl. Arishfa is best remembered for playing the role of Gunjan in Veera. She has changed a lot in all these years. The girl has always been loved for her innocent face and acting talent. We have to admit, her talent just kept on increasing with age and she is turning out to pro at everything.
It's almost insane how she manages her career in acting and social media influencing so damn well!