In our Indian Society, people says after marriage the only life a girl live is of a housewife. Like seriously who believes in it now?  
Welcome Back Creatorshala's Reader, we are back with another good story like always! Today we're going to talk about how an Indian Blogger, Dimpi Sanghvi breaking the taboo and making a statement by generating sensational content.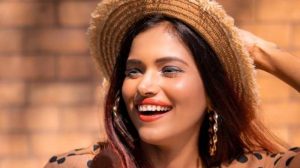 Getting inspired from the glitz and glamour of Bollywood, every Mumbaikar  instills dreams in themselves. Dimpi Sanghvi also instilled a dream in herself. With dreams in her heart, she graduated from a decent college and started working in a multinational company and in the year 2016 started her blog 'Wardrobe Secrets'.   
When she started working as a blogger after her marriage, she knew that the stakes were high,but she took it as a challenge like it is a situation of now or never . And in this her husband played a big role, as taking such a big step takes a lot of support and efforts, and her husband was their to support her at every step of hers. In one of her interview she mentioned that she sees her husband as her role model as he did everything for her, from encouraging her to take the leap & helping her out with many important decisions. 
Making her name in the community of blogging is tough but with support and luck from her family she became one of the fastest growing blogger. The secret behind this happy soul is her unique style ideas for her audience as she knows exactly what her audience wants to see. From L'Oreal to Versace, she has marked her identity with it!