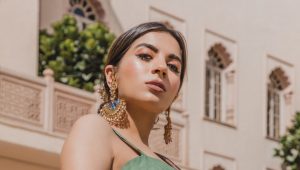 The harder you work the luckier you get.
Time is changing and so is the thinking of people and brands. With the change in thinking, mindset, trends and fashion; brands, specially the luxury ones need to come up with better marketing strategies everyday. It's important for brands and influencers to be on their toes all the time to keep things in sync with the audience and market. Street Style fashion is super cool, no doubts about it. What we do not realize is that there is a different side of fashion; luxury. Luxury influencing is still relatively new and it's changing everyday.
Sonam Babani is the voice and face behind the known luxury fashion blog, Fashioneiress. After studying in London and working for a short duration at Vogue, Sonam decided to start her own blog primarily due to her love for everything luxury and fashion. Sonam chose an entrepreneurial path rather than a traditional career in an established fashion agency, because she believes that fashion is extremely individualistic and allows one to express themselves in the most unique way possible. The diva strongly believes, anybody can be "fashionable", if they are truly expressing their inner self.
You can see a ton of creativity and passion for passion in every picture and post uploaded by Sonam. Her blog and Instagram feed is a delight to the eyes and she has attracted a huge fan base for the same. We have to agree, her feed is on fire with all the travel and luxury fashion pictures. Sonam has collaborated with a range of renowned brands, from luxury to jewelry, wellness, swimwear, skincare, make up, accessories and the like. It's always interesting to see how she adds her touch to each collaboration and never lets the creativity die. Her take on luxury, fashion, beauty and travel is something you shouldn't miss.
View this post on Instagram