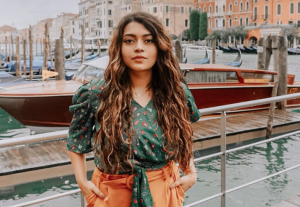 "Creativity involves breaking out of established patterns in order to look at things in a different way."
The competition in Social Media world is increasing everyday. As people are getting more and more familiar with Blogging, Influencing and Content Creating. The only way to stand out from the crowd is by being unique and staying true to yourself. One needs to have a creative mindset and work consistently all the time. Content creating is not only about brands; its also a lot about what the audience wants to see. Creativity and being yourself is something that takes you a long way.
One such creative Blogger is Gia Kashyap. Gia is the founder and the amazing mind behind giasaysthat. This Mumbai based content creator posts related to Fashion, Beauty, Lifestyle and Travel on her Blog as well as Instagram. The girl has some serious fan following on Social Media and you'll easily get hooked on to her drool worthy pictures. She is a spontaneous girl who just likes to wing it; Life, Eyeliner and everything basically! Gia with her amazing and unique content has bagged several collaborations with popular brands like Olay, Myglamm, Lays, Daniel Wellington, Bumble Indian and many more.
As a child, she always loved doodling and colors but little did she know that she'd end up working in the Fashion Industry. From working as a graphic designer, starting her own T-shirt line, write as a Fashion columnist for a well known publication in the country to starting her own blog; Gia's journey has been beautiful. You can see clearly see her experience and inspiration on her Instagram feed. It's a perfect balance of colors, theme and photography. Be it fashion, beauty, food or travel; she knows how to add her touch to every picture and reading.