Everybody can dance, it's the drive and passion that makes you a dancer.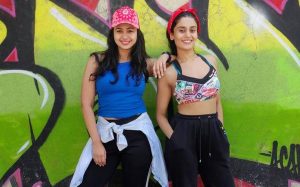 When you dance, your purpose is not to get to a certain place on the floor. It's to enjoy each step along of the way. The best part about dancing your heart out is how you just concentrate on the beats and forget the rest of the world. Dance for yourself, don't care about anyone around you; just move to the music because you like dancing. Great dancers are not born; they are made. It's their passion and feeling for dance that makes them stand out from the crowd. Dance is the hidden language of the soul.
How can we talk about dancing and not mention Internet Dance Sensation: Sonal and Nicole, founders of Team Naach. These Dancers, Choreographers and Youtubers based in Mumbai have Millions of subscribers on their Youtube Channel Team Naach and some of their videos have over 4 million views! Sonal Devraj an Nicole Concessao started Team Naach back in 2014 at a dance studio. They are currently one of the biggest dancing sensations on Internet today with their versions of popular covers and semi-classical versions garnering huge amount of attraction.
Both Sonal and Nicole are classically trained dancers; while Sonal trained in Bharatanatayam   for a couple of years, Nicole trained in Kathak, Bollywood and Jive. That's not it, these girls were a part of their college dance team in 2007 and then worked in corporate sectors before starting their joint venture. The first song they danced on was Prabhudeva's Muqabala in HipHop, Kathak and bellydance and got a lot of love online from their friends and juniors in college. There was definitely no looking back after that. Incorporating a range of styles from classical to modern forms of dancing, they soon became the indie divas of dance.