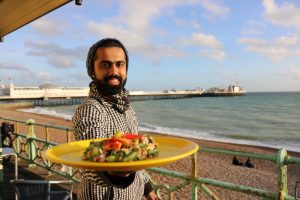 Food is essential as fuel to the body, but good food is fuel for the soul.
People who love to eat are always the best people. They'd be too busy thinking about food and eating to be involved in any kind of controversies. There are two types of people in the world; people who eat to live, and then there are those who live to eat. Honestly, there is no love sincere than the love for food. Some yummy scrumptious food can make you happy and satisfy you like nothing else in the world. After all, good food equals to good people and good times!
Say hello to a big time foodie Himanshu Sehgal! The young Instagram sensation behind My Yellow Plate, Himanshu Sehgal is a hardcore Delhi boy who quit his engineering job to follow his passion for food and travel. Out of sheer love of food and travel, Himanshu started with his food blog, My Yellow Plate. He carried his Yellow Plate with him everywhere and realized that it could be used to build a perfect platform. He shared all the original delicacies with the audience across various cities, in his yellow plate. Sehgal has a huge fan base on both his blog and verified Instagram account.
How many times have you stumbled across a drool worthy food picture posted by the growing number foodgrammers on Instagram? Among the growing number of these Instagram food blogging accounts; My Yellow Plate is a full-fledged feed dedicated to just food and travel. What started off as an Instagram account, converted into a Zomato Profile and is now a Big Food Exploring Platform. Himanshu's dedication and sheer love for food has got him where he is now; brand ambassador of Western Uninon. That's not it, he's been featured in National Geographic, Lonely Planet, NDTV & TOI as well.