Working Hard and Paying My Bills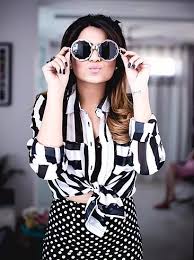 There is no right age to pursue what you love. If you have it in yourself every time is the right time. As much as we are in for advocating for the people who tend to divulge towards their passion somewhere in their late twenties or so on. We are all awed by the people who have been walking on the road they loved since the very first day. Who grabbed all the opportunities they got and created the rest. Who gave away all their weekends and leisure evenings all into their passion.
Dixika is an inspiration for all age groups and tells us a lot about every phase of life. Reading her blog and she takes on being single at 30 was one of the most relatable posts that I have gone through in my whole social media career. She has some legit gyaan for everybody and every piece that you find on her blog is a product of a lot of hardwork+undying passion and grassroots exposure!
Starting Early :
She started by hosting Brand promotion events that were held in local shopping malls, this was when she was in school, and we can proudly say that she was independent since childhood. Then one thing led to another and now she is one hell of a social media personality.
One Fine Day:
She was taking her career one step at a time and was doing well for herself when opportunity knocked on her door and she was offered to anchor an event!
You Can See:
She started early and has marked territory for herself. However, she has been a constant work in progress since the day she started. Starting her journey as an anchor. She has now embraced everything creative and relatable. She is a lifestyle- fashion- and travel blogger as well.
Bass Itna Sa Khwab Hain:
She has been checking off items from her bucket list since quite some time. However, one little thing waiting to be checked off is the ultimate recognition of her name out there. She is waiting and working for the day when " Log Inhe Naamse Jaanenge"
Team Creatorshala's Most Favourite Looks:
Pretty In Pink:
This is about women empowerment, standing strong in all her glory. She has been earning since she was in early teens and this one is all about and admiration for her.
When It's All Worth It:
There are times when you just sit back, soak in and smile because you know that you have made it.
Monochrome and Water Tones:
We at Creatorshala love Monochrome looks and when complemented with just the right view they are to die for!
Gold and Glitters:
Standing tall in all her self made glory because when it comes to her, all those glitters is gold.
Ethnic Glory
There is something about girls in ethnic dresses that takes away viewers breath!
Spotted @ Stories
Company To Die For:
She is a pet lover and has a dog named spikey, we are so glad because she has something that pleasant to go home to. In addition to a cute dog, she is occasionally accompanied by her little adorable niece Nia!
Work That Takes You Places
Her work means a lot of sponsored fun and travel but no raised eyebrows because she is worth it. She has been to a lot of exotic destinations and lived at best properties in the world.
Her Way With Words:
She has a collection of quotes that touched her heart or some phrases that hold a very deep meaning in her heart. Swipe up through her highlights and see for yourself how sensitive this diva is.
Comfort Coffee
There are life updates-Gyaan-some dark incidents and a lot of opening up. It is like a parade of everyday downs that we all experience and the ways she comes up with them out front makes us feel related to her!
Some Heart To Heart:
The latest Instagram trend has been those Q&A's and Ask me Anything sessions that make us feel super connected to all our favourite bloggers. Dixika with her comforting words and the ability to be frank with her followers has taken the game to another level.