Art is something that makes you breathe with a different kind of happiness.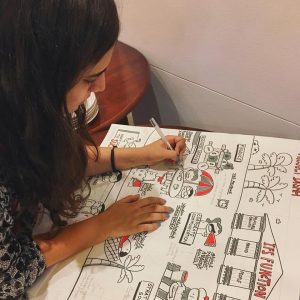 It takes courage to be creative in a world that is full of stereotypes. Choosing career options which are not right according to society requires strength. All that actually matters is what you truly want to do in life. Remember to love what you do and do what you love.
Say hello to Neha Sharma, also popularly known as Neha Doodles. The girl who is known for breaking stereotypes and making a career out of doodling. Neha is an illustrator, animator, cartoonist, and a social media sensation. There is no possible way of not getting hooked on to her quirky Instagram profile where she shares all her Doodles and Illustrations. The girl has some serious fan base on social media and we are sure you would have stumbled upon her profile if you are an Instagram addict. It's almost amusing and wonderful to see how Neha has made a career out of the most unusual of hobbies, 'doodling'.  In today's date, Neha has Clients all across the globe which include Google, Facebook, Ministry of Child & Women Development, FaceShop, UNICEF and Amazon to name a few.
Neha, like most of us, never knew what she wanted to do in life and Doodling was never a part of her wish list either. Being said that, she loved doodling at the back of her notebook, but never realized how good she is. Later, she quit her chartered accountancy career to become what she is today! Nothing makes her as happy as illustrating and doodling does. It won't take you long to get addicted to her rants on social issues and issues that concern the common class, slapstick humor on dank TV serials, hilarious punchlines on Sarojini Nagar, the good old Janpath, and her so-called 'sanskari' dog Minty.
You go, girl!
View this post on Instagram
View this post on Instagram