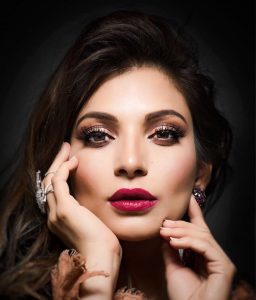 What are the odds of finding a super hero in the real world? The ones who wear capes, flying across the sky, saving people and standing up against anything that terrorize the world. The chances aren't good enough right? Well what if I tell you we all have a personal super hero in our respective houses?  Hard to believe but its true, our mothers are no less than superheroes, raising and supporting and protecting us against the whole world while managing their work. Today's article is about one such mother who has very graciously managed to raise her children as well as her career too and she flaunts both of them equally and proudly.
Garima Bhandari, a single parent of two beautiful kids who is a certified image consultant , a National Yoga Evangelist On Television ,a Lifestyle Influencer and a Beauty Blogger too. Garima whose strength are her children, will leave you awestruck when you see her so dedicated about her family and work.
Garima is a health , Wellness , beauty , style and a travel blogger but one consistent thing that you can see in her feed is her love for yoga and her kids. She is a renowned Yoga Mentor On TV with a huge fan following and especially people finding her tutorials very easy to understand and practice . Her flexible body and posture are a testimony to this fact . She has wanted to be independent from a very young age and has never liked relying upon someone else. In-fact she got an award for the "Young Woman Entrepreneur Achiever Award " For successfully launching her start-up – "Glo" ; a beauty and a hair app in 2015. But since she found her passion for yoga and she wanted to inspire people with it, she started posting videos while doing yoga on Instagram and gained a good viewership and response but guess what, since good luck comes hand in hand with hard work as Times Of India features her on International Yoga Day and on various other videos too ,
Times of India went on featuring her in multiple Beauty , Fashion and Lifestyle Videos too and till now she's featured in their various series.
Soon enough , India Today Multimedia Group ( Aaj Tak ) contacted her for being their exclusive Ambassador and face of the brand YogaTak digital channel which is broadcasted in their other Tv channels too including TATA Sky and Airtel Tv .
She has worked with many ventures with Aajtak and India Today for their yoga and fitness videos and has Been an eminent guest speaker , panelist and was awarded at various prestigious Health Summits across India .
Currently her her yoga show  airs on Tata sky and Airtel Tv every morning and she has her own YouTube channel too which she recently launched . Due to her fitness one just can't say that this glowing and beautiful woman is a mother of two grown up Kids ! ( 11 & 9 )
She's one of the ladies who are the remarkable example of true womanhood because womanhood isn't hiding behind fear, hesitant to follow your passion due to the society's baseless norms and stereotypes. Womanhood is also not just getting lost inside the professional world and forgetting their loved ones just for the sake of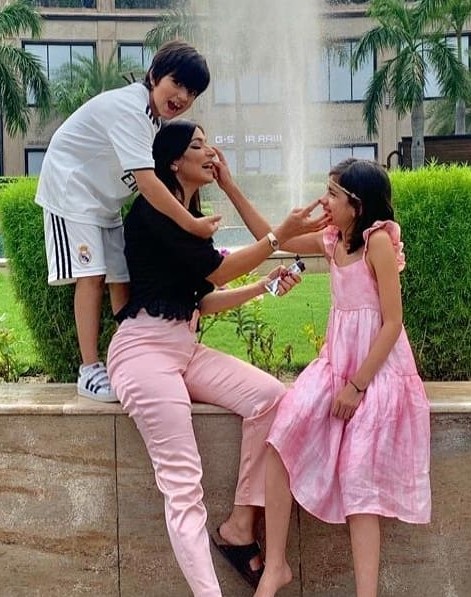 proving a point without understanding the true meaning of feminism. Instead, real womanhood is giving your hundred percent in any thing you put your heart into and the same is what Garima portrays.
She's a professional blogger earning bread and butter for her kids and then coming back home to feed that bread and butter with the motherly love that every kid needs. Garima knows how to bring out the best of both worlds. Garima says that with her two kids, a daughter named 'Aadhya' and a son 'Kush' by her side, she can conquer the world. And without a doubt, when a woman understands and identifies the power she has within herself, nothing can stop her from achieving whatever's on her list. All she wants is to inspire everyone out there, that if you follow your goal with hard work and dedication, nothing is impossible.
Watch this adorable video of Garima's daughter doing her makeup: