Inner beauty is great, but a little mascara never hurts.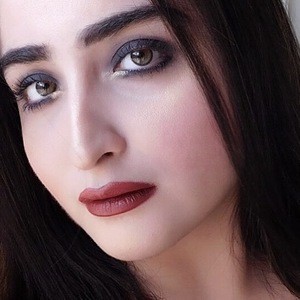 It's finally the best time of the year. Wedding season has finally began and it's time to take out your best, glittery and glamorous outfits. Experiment with clothes, with colors, with makeup and accessories in every way. Girls, we all wish to look different during this season to stand out from the crowd, don't we? Of course, your outfits plays a very important role; what about makeup? Makeup is as important as an outfit to complete the entire look. If your makeup is not on point; your outfit won't really look as gorgeous as it should. Looking for some beauty inspiration?
Say hello to Divya Relwani! Divya is a makeup and fashion blogger on Instagram. She is known for coming with beautiful and unique makeup looks. The girl has attracted thousands of followers to her Instagram account through her beauty and fashion skills. We have to agree, she is a genius! She creates art on her face with those makeup brushes and we are in awe. It's amazing to see how she is not scared to experiment with different colors and products. Since the wedding season has begun; here are 3 makeup looks created by Divya that you must try:
All That Glitter
One dominating color in all our ethnic outfits is gold. You'll mostly find a golden-bronze embroidery which looks really beautiful. To go with that embroidery comes a glittery-gold-bronze eyeshadow. This makeup look by Divya is easy to recreate and a safe option for all the beginners. Add a nice winged liner, some thick false lashes and a nude lipstick to complete the look.
Good Old Smokey Eye
One makeup look that will definitely make you stand out from the crowd is Smokey Eyes. This particular look goes with all the outfits and makes the eyes look very deep and beautiful. Can you see how beautifully Divya has blended all her eyeshadows? Since the eyes are really dark and heavy; add a nice subtle lip color to complete the look.
Keeping It Classy
If you are that girl who doesn't like going all out with her makeup then this look is perfect for you. A classic winged eye liner with blood red lipstick. This look is simple yet very bold and classy. You'll not have to put in a ton of effort and products.