Never underestimate the power of a good outfit on a bad day.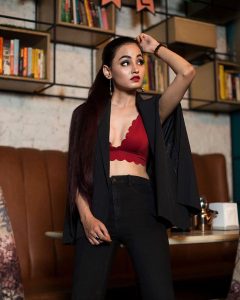 Let's be honest, when it comes to getting dressed up in the morning we always struggle. As much as we want just throw on leggings and a comfy sweatshirt; we cant. Can the fashionista in you allow to look like you've not put in any efforts to get ready? Certainly not! It can legit be a pain to decide what to wear and what to do with clothes that you've hardly worn. Standing in front of the closet, helpless, is not the best way to start the day. Yes, the fashion bloggers struggle too.
Say hello to the gorgeous Kashvi Chauhan! Kashvi is a blogger based in Delhi/Mumbai; she posts everything and anything related to Fashion, Beauty, Lifestyle and Travel on her Instagram feed. There is no way you'll not get hooked on to her pictures once you start scrolling through. The girl has thousands of followers who get inspired by her posts on an everyday basis. She is also the co-founder of @tgccouture which is an Instagram page for a couture line. Kashvi's content is really creative and manages to think out of the box for all her posts, which is amazing.
Coming on to her outfits; she does full justice to her Instagram handle @theglamorous_chic . Kashvi's outfit's will want you to steal her entire closet. Specially the casual outfit pieces that she owns. This girl seriously has some amazing choice when it comes to fashion. Kashvi has a very effortless sense of dressing up and all her everyday ootd's come out to be really Pinterest-y. We've shortlisted a few outfits from her feed that you need in your closet to look as stylish and trendy as she manages to look all the time.