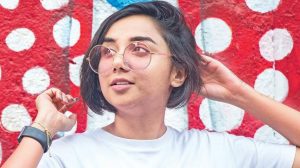 Work Until You No Longer Need To Introduce Yourself.
We have been brought up in a way where we wish to have a stable career in life. Anything which does not give any surety is not acceptable. Acceptability of a career in which the income and designation is not fixed is still relatively low in our country. There is cut-throat competition going on outside; one needs to feel secure and run even if they are not running after their passion. Sure, 9-5 job brings security and stability in life. What about passion; the monotonous 9-5 job is not everyone's cup of tea and some of us are ready to go out there are take a risk just for our passion.
Say hello to the very talented Prajakta Kohli! A popular Indian Youtube personality who makes comedy videos and is known by her Youtube name 'Mostly Sane'. Prajakta's comical take on everyday life situations won hearts of Millions of people and they couldn't stop themselves from subscribing to her channel.  Soon after completing her internship as a Radio Jockey; Prajakta decided to launch her Youtube Channel. Her first video '10 hilarious words Delhites use'  took a sweet surprise and she went from 3k to 30k subscribers in less than 2 months. It's been 4 years and the girl never looked back.
Today, Prajakta has collaborated with actors like Ayushman Khurana, Saif Ali Khan, John Abraham, etc and fellow popular Youtuber's like Lilly Singh, Collins Keys, Bhuvan Bam and Ashish Chanchlani to name a few. The best part about her videos apart from the entertainment factor is how realistic she is. Prajakta makes it really easy for her subscribers to relate to her. Her content is something you cannot stop watching; it will get you hooked. Her ride has not been a cake walk, but the girl never gave up and she keeps on working hard.
View this post on Instagram