"Things may come to those who wait, but only the things left by those who hustle."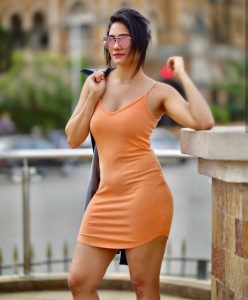 Eating healthy and being fit should never be considered as options; it's a choice. A good lifestyle, fit body and a peaceful mindset can not be attained over night. It's important to make some necessary changes in your life to get fit both physically and mentally. All the clothes and makeup comes later; which too of course, plays a crucial role. It's time you put yourself first and do all the hard work to be the best version of yourself.
Hello our wonderful readers! Today's article aims to motivate all you people out there. We are talking about none other than the very gorgeous and versatile- Richi Shah. Richi is an Influencer and content creator. Her posts are usually related to Fitness, Fashion, Beauty, Lifestyle and Travel.  This fitness enthusiast has hooked on 747K people on Instagram because of her amazing pictures.
Richi is definitely a multi-talented girl. She posts content under so many niches but all of it comes out so unique and beautiful. Her sense in fashion is amazing, she keeps herself up to date with all the latest trends and manages to slay whatever she wears. Another reason why she is able to carry every outfit with such elegance and ease is because she is extremely fit. Richi often shares her pictures in the gym wear, the girl does work out hard. It shows.
Another thing Richi is really found of is travelling. She's shared such beautiful and breathtaking pictures of her travelling; serene beaches, lush mountains and what not.  She is true explorer by heart and loves to travel all across the globe.
If you love to follow new trends in fashion, know about the new beauty products in the market, play around with makeup, require some motivation to stay fit and you too are bit by a travel bug; go follow this beauty. You won't regret it.
View this post on Instagram