"Wherever you go, go with all your heart."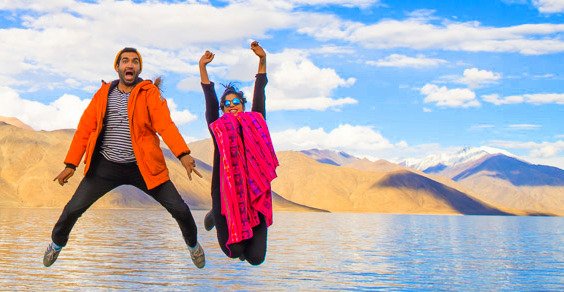 How many of you love travelling? Well, I am sure most of you do. Keeping that in mind, we have a treat for you i.e. Today we will talk about a duo that has travelled 95 countries, and they are non-other than Savi and Vid.
Savi and Vid are travel bloggers, who have grown quite a buzz on social media in these few years. The duo owns a website named "Bruised passports".  They also have an Instagram profile with the same username having 424k followers. They share their travel experiences on their blog and the pictures that they post to open a window for us to see this blissful world.
The story of these individuals started when they first met in school Savi was 14 while Vid was 16. Both of them belonged to professional middle-class families and spent their youth in educating themselves as much as they can. Savi has a PhD in English Literature, and Vid is a computer engineer. Both of them dated all this while and yeah, this teenage love story reached the path of marriage.
More about Savi and Vid-
One thing which is common to both of them was the love of travelling, after working for 10 years and saving a good amount of money the couple travelled around  50 countries and had thousands of stories to tell. It was back in 2013 that they started the blog '"Bruised passports", which was an extension of their love for travel.
Savi and Vid started the blog with passion and shared their stories and experiences on the blog, and soon they had 10000s of followers. They left their full-time jobs and start working more passionately about the blog and took travel blogging as their full-time career and since then they haven't looked back.
When asked "What is the best and the worst part of being a professional travel blogger?" They said; "The best part of being a travel blogger is having a virtual family all over the world and they love being able to pursue their passion as a profession and being unable to work anywhere as long as there is good Wi-Fi." While talking about the downhill of the profession the duo added that they choose to share their lives with the world, but they dislike the way that gives some people the license to ask them extremely personal questions about their income or their relationship.
They have a soft spot for offbeat and romantic travel, luxury and accommodation, local experiences and culture and fine dining.
Wondering how do they earn money? To answer this question they added,  they earn money by travel writing, public appearances, public speaking, travel and lifestyle photography, social media consultations, and product reviews. Their work has been published in renowned magazines, newspapers and online portals including, BBC Good Food Magazine and National Geographic Traveler. They have also appeared in TV shows on Discovery Channel and TLC Asia.
The advice they have for the first time bloggers is "Don't try to check thing off a list or pack too much into your itinerary- Breathe in the place and soak in all that is has to offer."
Savi has a great fashion sense and she gives us major fashion goals. Savi loves dressing up and wears ethnic dresses of whichever country she visits while Vid has got great photography skills and post pictures of wherever he goes and every picture from him tell us a different story. The duo is quite active on Instagram and shares major DIY too.
Watching this super talented couple can't stop us going gaga about them and with every picture they post makes us fall in love with them more and more.