Hope-Dreams-Confidence-Enthusiasm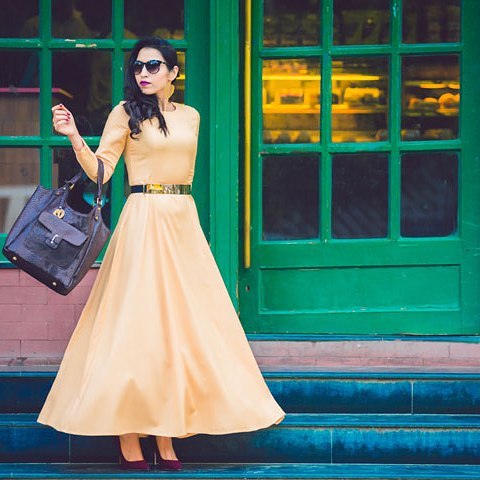 I always say to people: Do what you love, follow your bliss, listen to your heart and intuition, and know that by doing so, success will have no choice but to follow.
Of course, when you get stuck in a job you don't love, when you are doing the things that took you off your path for too long, hearing words like doing what you love, success, passion, etc. can be quite irritating.
Most of us live with this impression that we don't have control over what we do, over what happens to us, over our happiness and our unhappiness, and that we are victims, and of course, as victims, all we know how to do is defend ourselves. Because we spend so much time in the defending mode, we forget who we are, we forget that we do have a choice and that we do have the ability to shift our lives in the right direction.
Shalini Chopra who is the founder of the blog Stylish_By_Nature. She left a successful and lucrative corporate career of 8 years to pursue her passion for blogging. Fashion Lookbook's and content creation stuck a chord on her heart that she decided to follow it with all she has!
Team Creatorshala's Dig on Stylish_By_Nature
Getting to Know Her:
Shalini Chopra who is the founder of the blog Stylish_By_Nature is not your average next door girl at all. She has got a flair for all that she does and a panache for all that she preaches. She has been awarded as the blogger of the year for 2014 onwards to 2018.
Her Style:
Her style is taking all that she likes and putting it up her way. She is eclectic when it comes to selecting pieces for her wardrobe and go from a luxury boutique to a street shop in a matter of 0.10 seconds. According to her all the content on her blog is an extension of her beliefs and natural style.
For the shared love of Food and Wine:
She is a wine-sushi and dim sum kinda girl. which you can always spot her at some high ended Pan-Asian restaurants. Her main course choices are fairly sophisticated however she has a big sweet tooth when it comes to doughnuts and Nutella!
Her take on Stuff:
She thinks by original is the key to success, and hence there is a big no to any kind of fairness campaign offered to her. She thinks that we live in a country where people have a sense of pride in dressing and comfort is integral to fashion.
She said and we quote:
"Be Persistent, Be Original"
Team Creatorshala's Most Favourite Looks:
What Perfect Co-ordination!
For the Love of Black:
Flaunt and Fusion:
A girl that can do Both
Standing Strong and Adorning Grace
Blog @ Glance
Fashion: There are lookbook's for every occasion, a little extra footage to a few of her favourite styles and a lot of advice related to college fashion.
Food: There are a lot of healthy and non-mainstream dishes. If you are a fine dine, person, then this is the right place for you.
Travel: Seems like she is a very different niche when it comes to creating content on travel, you can find her views on Casino's and spot her documenting her experiences of motorcycle shows!
Beauty: There is a soft corner for fragrances and organic products and a lot of footage to Huda Beauty we are so jealous because she has the perfect collection of all the nudes and roses!