If dedication was a sport, this Boss Babe of ours would have owned the ground, She is the perfect mixture of sass and well some more sass and boy-o-boy, the way she flaunts it is just exceptional. Niki Mehra is the luckiest of the lot because "Uska Pehla Pyaar Pura Ho Gaya" reason being her first love was her love for fashion and one look at her blog makes it more than evident that fashion loves her back! 
Having studied economics, and having literally no background in fashion she knew it was going to be a long journey. However she started where she was, holding her dreams close and her spirit closer.She may have smudged her eyeliner a few times, but her soul was always on fleek. She quit her job because she wanted to do it full force and for her it was quality over quantity. She gave in whatever she had and well she was spotted by Swaroski and landed up in Paris for their campaign, and there is no looking back ever since. 
P.S : Guys i really don't know how to put this into words but, She has met Rihanna!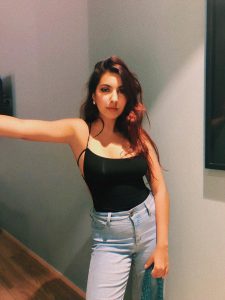 Having touched the sky, her feet are firmly on the ground, and she is immensely thankful to all the people who have supported her.She is super selective when it comes to her personal life and has only "Best Friends". 
Her recipe of a successful blog is passion,positivity and a lot of patience.When it comes to her blogging routine she emphasizes on the importance of "Me Time", and thus that is what the first half of the day is all about.She has kept her life balanced to the best partly because she starts her day when most of us our ready for our mid day break(Perks of being your own boss) and then its usual routine work. She also stated that she loves watching "FRIENDS" whenever she gets time and (I am guessing that her favourite is Rachel).She says blogging is not very easy and not very difficult at the same time, its like any other job, and if you are totally into it you will make it big! 
–Be the Girl, who waits for her Prince Charming in the Mall, buying whatever she wants without looking at the price tags–