–Doing Little Things In A Great Way–
If there was supposed to be a list of things which had the power to motivate a person midst a lazy Sunday evening and fuel them with energy for the impending Monday, the list would have been very small, However, making it to that list is Shivani Patil. Shivani is a Fashion, Beauty and Lifestyle Blogger who shoulders the responsibility of bringing us the most relatable content.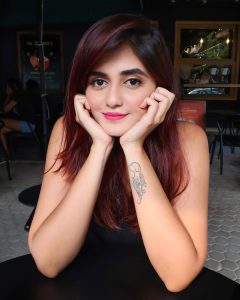 Shivani is one of the few people who reflect the simplicity of Internet Personalities and make us believe that we too can do it. She is just 22 years old and has been successful in taking her blog to a new height. She started her blog "The F Drug " in the year 2015 and has been giving us great content ever since. In addition to her blog, you can follow her on her Youtube channel for some amazing tips and most relatable tags.
Team Creatorshala's Dig on The F Drug:
Once Upon A Time:
Today her lawn may be blossoming with a lot of flowers, however, it wasn't the same always. She has had her struggles and that too at a very tender age. Having suffered from borderline dyslexia had its side effects and took a toll on her learning abilities. However, she replaced learning with teaching and is topper in what she does.
Green Lays and Red Signs:
She is a pro when it comes to trying on new clothes and watching them Movies. However please do not leave her alone in the kitchen or around vegetables.
I Can Still Remember Moment:
She had that rush of confidence in making it big when she started participating in Paegents and it has been a beautiful journey since.
Pose and Plate:
We all know her love for fashion and how good she is at it. However, it is her love for food that makes her feel oh so connected Because with that hourglass figure it is unbelievable that she digs into those Butter Naan!
Standing Strong:
Contrary to what a lot of people believe about Bloggers most of them are self-made and so is Shivani. She has been blogging since the year 2015 and has not taken a single penny from her parents from when she was 19 years old.
Our Favourite Looks
The one which takes us Back:
Since we are in the middle of fall a little pinch of old days look is enough to take us back and make us nostalgic. Same goes for this one because we are all in for going back to those days when we used to sit on swing midst all that grass.
Mad Haters:
There is something about hats that says the girl has got some and we couldn't agree more.
Say Cheese:
Smiling because so in love with the caption. We can so relate to that look of love in her eyes, because of Pizza Rules!
The one with All The Love:
It is rightly said that until one has loved an animal a part of your soul remains unawakened.
Me Time:
Since we all know that she is an introvert we can so relate to this one. The kind of "Sukoon" you get in times like these is beyond words!