"I believe in adding a small dose of subtle funk to all my clothes." – Shloka Sudhakar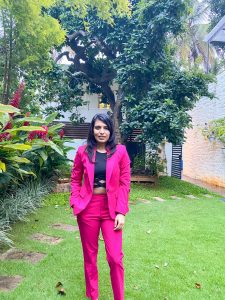 Shloka is a fashion designer and a style enthusiast, and she is known for her classy yet chic designs. The fashion designer has showcased her work in major fashion events. But the journey of fashion that Shloka is walking through now wasn't a cakewalk. Her persistence and love for fashion have grown her fame and popularity. Today, We will walk you through the memory lane of Shloka and her journey to be the most promising designer of the year.
Shloka hails from a coffee-growing region in Karnataka, Chickmagalur. Her parents realized the need for better education of their child, and sent her to Bangalore, where she completed her schooling.  Unlike other kids who dream to be a Doctor or Engineer, Shloka dreamt of something else. From childhood, she always wanted to own a zoo with all the wild animals in it.
It was in her last year of high school that Shloka learnt about her love for fashion and designing clothes, but destiny had something else for her, as she completed her graduation in Accounts and Finance. After graduation, her interest was still inclined towards fashion, and she started as a designer with a willingness to give wings to her creation.
At the age of 23 and with just 7 months of experience, she launched her collection at the Bangalore Fashion Week. Since then, there have been many fashion events, which Sudhakar has been part of.
More about Shloka Sudhakar-
The style statement of the ravishing designer is: "I try to keep everything classic yet edgy at the same time."
When asked; "What is fashion according to you?" Shloka replied: "Fashion is about wearing something keeping yourself in mind, and of course, comforts plays a major role. You cannot be happy while wearing something that you are not comfortable with." She rightly believes that fashion is ever-changing, and there is always a room for experiment in it.
Apart from designing, she is highly interested in sports. There wasn't any relay race that Shloka and her team lost in her school time. Basketball and Athletics are the sports, which still amazes the designer.
All work and no chill make Jack a dull boy, Shloka knows this quote very well. She believes that there is no point of overdoing anything and love partying and chilling with her friends.
While talking about her future endeavours, she adds: "I eventually want to get into the bridal designing section. I have planned it in such a way that people get familiar with the use of new fabric, the blending of 2 cultures." She believes marriage is the most important day for the bride and groom, and she wants to create something which is based on their storyline.
She has a keen interest to work for society and help silkworm breeders. Coming from Bangalore, she has seen the struggle of the silkworm breeders closer than anyone else. To help silkworm breeders, she is planning to work with them and use silk to weave her forthcoming designs.
Her multi-talented persona is quite evident in her story, and her designs can't stop us going gaga about her. To mesmerize yourself with her classy yet edgy designs, don't forget to follow her Instagram.