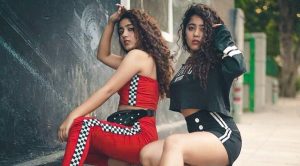 Being sisters mean you always have backup!
Life is full of surprises, isn't it? Things that you never really thought about happen, and woooshhh; everything changes in a second. It's important to be adventurous and free-spirited in life. You only get one chance to live; take that risk, sis. Be spontaneous and determined, think from an open mind and imagine the bigger and better picture. Life will never go according to your convenience and how you've planned it. But, one thing is for sure; there is always something better planned for you. It might be a blessing or a lesson. Just be ready for adventures and surprises!
Say hello to Surabhi and Samriddhi also, popularly known as Chinki-Minki. Surabhi and Samriddhi Mehra are twin sisters who are know Influencers, Youtubers, Tik-Tok Stars, Models and of course Actresses/ Comedians. These twins gained a lot of popularity after being seen in a popular comedy show The Kapil Sharma Show as Chinki-Minki. It didn't take them long to win hearts of the audience through their acting and comic timing. If you have seen them on the show; you'd know that Surabhi and Samriddhi are an absolute delight to watch. Today, these divas have fans all around the world and they are quite a sensation on Instagram, Youtube and TikTok as well.
Surabhi and Samriddhi started their career as Influencers on Instagram; post that they stepped into acting and comedy. Their taste in fashion is absolutely stunning and these girls have been quite influencing on Instagram related to their outfits as well. The audience goes absolutely ga-ga over their cute smile and voluminous curly hair. Surabhi and Samriddhi have collaborated with big brands like Crocs, Lays, CocoSoul, Forever 21 and Lemon Tree Hotels to name a few. Their pictures on Instagram are super quirky and pretty; definitely a visual treat to the eyes.