–Art-Passion-Expression–
On most days, I have to admit, I love my job. I love the fact that I come to work every day, read about these inspirational personalities who are bridging the gap between passion and profession as if it is a cakewalk. It is as if every day that I leave my desk a little richer and a lot more inspired. Being a writer myself I know the power of passion and how you can be intimidated by your self, however, once you turn your passion into your purpose there is no turning back!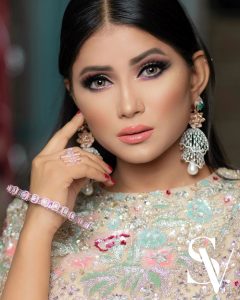 As much as I can attest that the above statements are true there are times when we have to try hard for simply believing in ourselves and it is in times like these that we look back to people like Swati Verma, who made her passion and her profession into two pieces of magnets which are incoherently attracted towards each other!
Swati Verma is a Makeup Artist who hails from New Delhi and has been spreading her panache all over the globe. She keeps some magic makeup miracles in her kit and is not at all shy to share them with her social media family! To say that she is all about makeup would be right but incomplete she is in love with the all that her work has to offer she is all smiles about exploring beautiful locations, meeting a lot of women and most importantly a lot of excitement for being with her brides on their special day!
Team Creatorshala Presents You With Some Noteworthy mentions from the life of Swati Verma:
Before It All Began:
Swati's family was strict about academic values and wanted her to pursue her studies without any distractions however the heart wants what it wants so she dropped medicine for makeup and the rest, as they say, is history!
Love Story Part 1:
No prizes for guessing that her first love is her love for makeup! She has been behind it with the most fierce of spirit and the most calming faith. She has been taught and trained by the best of makeup pioneers at London School of Makeup and graduated at the top of her class. Since the first rule of love states that it is all about giving she has started on with that as well. In addition to all her tips on social media, all her inspiring fans can enrol in her makeup masterclass and learn to create magic!
Love Story Part 2:
We wouldn't be wrong if we say that it has always been larger than life for Swati Verma, and we can say that maybe she was on the priority list for Mr Cupid because for her it was love at first sight with hubby Vishal Nanda and just like her love for her work this story transcends borders!
Kinda Big Deal:
Her Portfolio which is showcased on her site is a big deal and is like a preview of how one build onto what they belive in! She has exhibited all her work onto the portfolio and some extremely useful tutorials are uploaded on IGTV for her Instagram fans!
Mirror Mirror on The Wall:
It is no secret that almost every other girl spends quite some amount of time with her mirror. However, for Swati, her mirror has been so much more than a lens to stare at her reflection. It is someone who has seen her grow to what she is today, has noticed her mistakes and struggles, has been a witness to all her dedication and happy moments!
P.S: She is an inspiration in every manner and uses only cruelty-free products in all her makeup's, also (Thanking Heavens) she has uploaded a blog post on her site which has a list of her 10 most favourites and I am onto the list as soon as I publish this one!
http://swativerma.com/ten-makeup-must-haves/