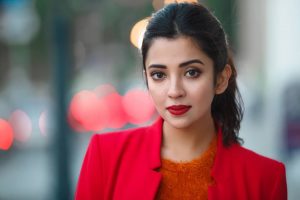 Hard work and success go hand in hand. If hard work is missing from your life today; success is most likely to be missing in the future. It's important to do everything you can in your hands to be the best version of yourself and achieve all your goals and dreams. Be consistent with your efforts, be extremely passionate, stay motivated and just simple love what you do.
One such person is Barkha Singh. She is a vivacious face of Indian television and has worked with big brands such as Coca-Cola, Clinic Plus and Cadbury.  She has appeared in multiple national and international television commercials and is also known for her cameos in movies such as Mujhse Dosti Karoge!, Parineeta, Apna Asmaan and Samay: When Time Strikes. Singh is an animal activist and enjoys traveling, adventure sports, fashion, and cooking. Apart from acting, she has also hosted online game shows and been a part of multiple web series. With eyes that gleam with innocence and that happy-go-lucky and cheerful persona, it is no wonder that Barkha is one of the leading ladies on the silver screen.
This stunner is also a rage on the internet with a huge fan following. Barkha has hooked on Millions of people to her Instagram account. She posts great Lifestyle, Fashion, Skincare and Travel related content which the audience absolutely loves. Her Instagram feed is as lively, trendy and carefree as she is. Barkha believes in  being one man army and conceptualizes her own content; which actually adds that creativeness and relatable feel to her content. The diva knows how fast-paced the internet is and she understands the importance of being up-to-date all the time.
It's not easy being a part of movies, commercials, web series and also being an influencer. We love how Barkha manages everything with so much grace and perfections. The girl is a bundle full of talent.