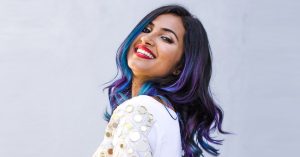 You probably know Vidya Iyer as quite the celebrity on YouTube, all thanks to her beautiful music fusions in which she blends Indian and western music together. Vidya Iyer, popularly known as Vidya Vox is an Indian based YouTuber and singer.
She was born in Chennai and moved to the U.S.A with her family when she was just eight years old.
Her music is a blend of various types, from Indian classical music to Electronic dance music.
She has performed at many well-known places around the globe, like the White House, National Centre for the Performing Arts (India), Webster Hall, Reunion Island, Dubai, and the Meru Concert Series in the Netherlands.
Her most famous mashup was "Closer/ Kabira", a mash-up of Closer by Chainsmokers and Kabira from the Bollywood film " Yeh Jawaani Hai Dewaani" which received over 55 million views in just 7 months.
More about Vidya: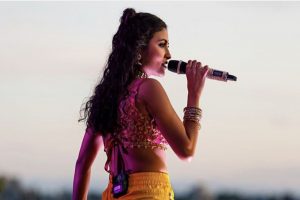 Vidya and her little sister were the only brown kids at her school and were always made fun of. They were also bullied for the food they ate.
Puberty and the teen years are always hard for anyone, but in her case, she was from a different country altogether. Kids there used to say mean things to her like, "ew, why do you smell like curry? Your lunch is so weird!'"
Vidya never told anyone about her great singing skills when she was in school.
It was in her college days when she realised the real power of YouTube after meeting the music composer Shankar Tucker. She started touring with him and his band in her college days.
Later, she decided to move to Mumbai in order to learn Hindustani music. When she returned back to Los Angeles was the time when she uploaded her very first video and a young singing sensation came into existence.
In an interview, she affirms that, "Growing up, I had such a Tamil household that a part of India never really left me. My mash-ups felt so organic because I felt so connected to India."
From being tormented as an Indian child residing in U.S.A to using her Tamil roots for becoming a YouTube sensation, Vidya has come a long way. She received great motivation from her grandmother to learn Indian classical.
Her father was very dominant and abusive. He had his control over everything she did, also the little things like what she should wear and stuff. She had really low self-esteem and also suffered from terrible anxiety issues.
Her mother eventually got separated from her father when she was sixteen because of the abuse. But due to the stigma around separation from a spouse in the Indian society, especially for women.
When her mom escaped her dad, her music teacher refused to teach her.
Despite all the hurdles, she struggled for her success and never gave up. Today, she is widely known for her talent and very successful in her life.