Be so good that they can't ignore you.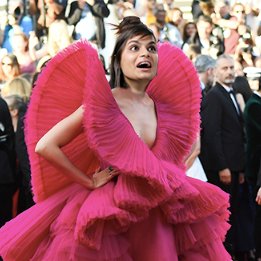 In today's world, the only thing that makes you different and better from others is your talent. It all depends on how determined and truly passionate you are towards things you want to achieve. Nothing comes easy in life; it's important to stay focused and continue working hard. Go after what you love doing from your heart and there is nothing in this whole wide world that can stop you. It's just important to be you stay true to yourself. Let your talent shine.
If you are a social media freak, we bet you know Srishti Dixit. From being an entertainment writer at BuzzFeed India to being an Internet sensation for her viral videos; we've seen Srishti grow like no one else. This talented woman has a following of lakhs on her Instagram account, which of course is verified and million views on videos she is a part of. The internet is crazy for Srishti, and she totally deserves it! She'll get you hooked on to her videos and we promise you can spend hours watching them. The acting skills, sass and comic timing she has; no one else does. Glad that she found her calling with the videos. From her monologues to Patch's photos, we thoroughly enjoyed browsing through her feed.
It all began when she expressed her desire to act in videos at Buzzfeed. Up until that, she'd been working as an entertainment writer. She started writing and producing videos for Buzzfeed and on the other side, started making some amazing content for her social media as well.  Has there been any looking back for Srishti? The answer is a big NO! The kind of content she posts is honest and has every day connect with the viewers.
Head over to her Instagram Feed now!
View this post on Instagram