Not just a stand-up comic but
also the greatest story-teller.
You know that you've achieved something really big when your name is enough and you need no introduction. But what if your biggest achievement is winning the hearts of a nationwide population?? All you'll get, is love and respect in abundance by the audience you're working for and lets face it, in an era like today where the opportunities are high but the competition is higher, fame and success is still easy to find than finding love and respect because we all are in a big chaotic rat-race and everyone is ready to push each other down the grid to find success and a good lifestyle for themselves but this legend, despite of all the mean competition,  very gracefully managed to hold the whole country spellbound with their eyes glued to him and with a blink of an eye he became almost everyone's favorite. ZAKIR KHAN, a person who molded his own destiny and future through his talents and non-stop hard-work, gathered all the lessons he learned in his lows to create his heights, is a true example that if you believe in the motto of believing in yourself and doing ample amount of hard work to support that belief, nothing can stop you.
For me as a writer, this is a great honor to write about one of the greatest writer of this generation and yet again we can't limit this man by just calling him a writer as he's the master(not jack) of all traits; Stand-up comedy, Story-telling, Writing, Acting, Hosting and the list goes on. But first let's start from when and how he started his journey to now becoming the most adored internet personality of the nation.
Khan belongs to a family of musicians with a great ancestral history in Indian classical music and as the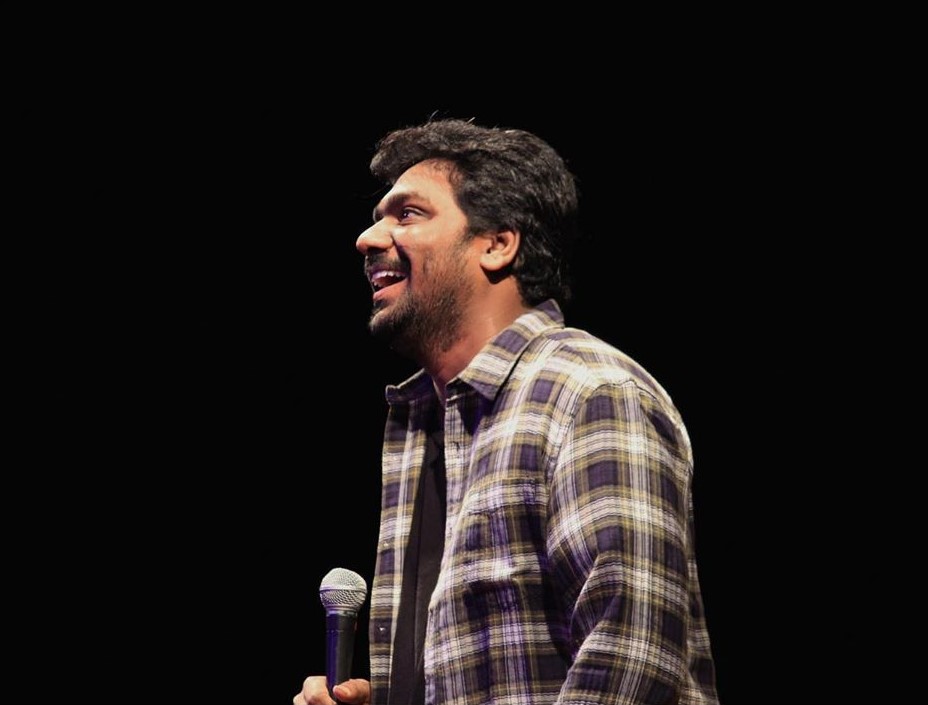 tradition goes, he was also supposed to follow the steps of his family and get into music, infact, he even has a diploma in 'Sitar' and his fingers do not lack the talent of a musician when they glide on the sitar strings. But Zakir had something else planned for himself. He finished his high-school in his hometown Indore but then dropped college to go to Delhi and start working and experimenting his fate. He began as a writer in 2009 for radio. He used to write radio broadcasting advertisements. The early 4-5 years in Delhi was his major struggling period when despite of all the crisis & small failures and metaphorically the blood-shedding competition called 'life', he did not give up. He also went through a trauma in his personal life when he could've been broken to pieces and stopped working, but that's not who Zakir is, he got back on his feet started working harder each time life brought him down. Meanwhile, he kept on doing comedy stand-ups and open mics in Delhi alongside all his struggle. After few years full of struggle and disappointments in Delhi, he moved to Mumbai and got a job in AIB, a rising comedy news channel back then, as a Hindi script-writer and that's when his destiny took a turn towards his fame as his YouTube video with AIB went viral.  His stand-up was viewed and liked by thousands and slowly and steadily he dug his firm feet deeper into stand-up comedy as he kept doing bigger and bigger stand-ups and uploading the videos on his youtube channel and a lot of people started following him.
Sakht Launda has now done two massive singles with Amazon Prime known as 'Haq Se Single' and Kaksha Gyaarvi' both erupted into huge success apart from the many stand-ups that he did. He has also been a judge/mentor in 2-3 comedy shows. Last year he launched his own web series 'Chacha Vidhayak Hain Humaare'.
Since there are a lot of comedians out there, what is it that differentiates Zakir from all of them?? Maybe his genuine attitude that gives out really positive vibes, keeping him very real and being able to connect to a crowd, or maybe its his relatable content that almost everyone goes through in their life but they didn't think it could even be funny. Whatever it is that makes him stand out from others in his field, it has really come in handy for his career and helped him win hearts of anyone who likes watching stand-up comedy. He also has deep love for Urdu and Hindi poetry and has contributed a lot for inspiring and indulging the youth of today into writing Hindi and Urdu poetry.
There is no end to write about this hilarious person who just captivates everyone through his words and thoughts so would just like to end it on a poetry written by him that totally describes his hard work and struggle that has been put behind the brand that he has now become:
"MERI ZAMEEN TUMSE GEHRI THI,
 MERA AASAMAAN BHI TUMSE OONCHA HOGA"